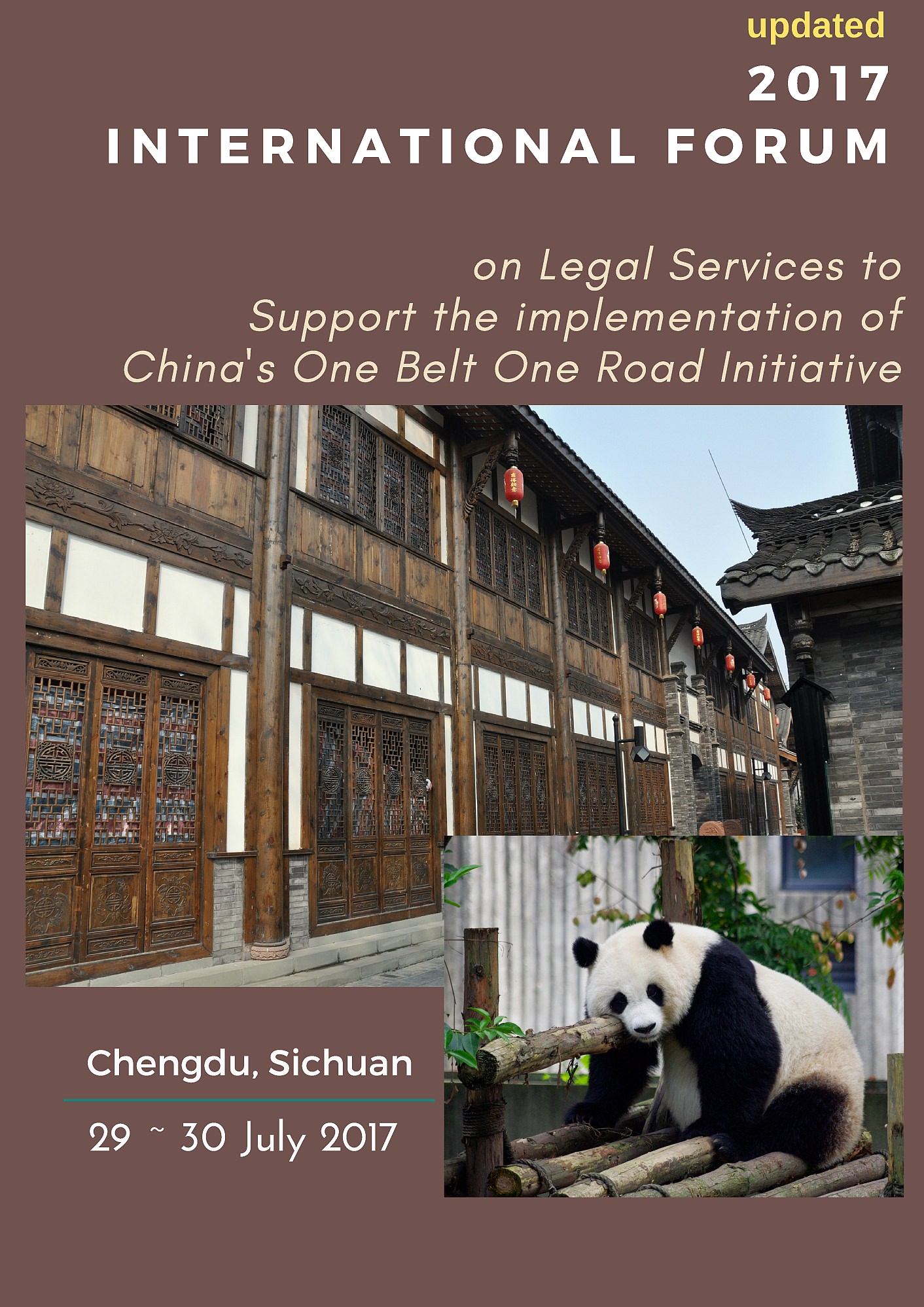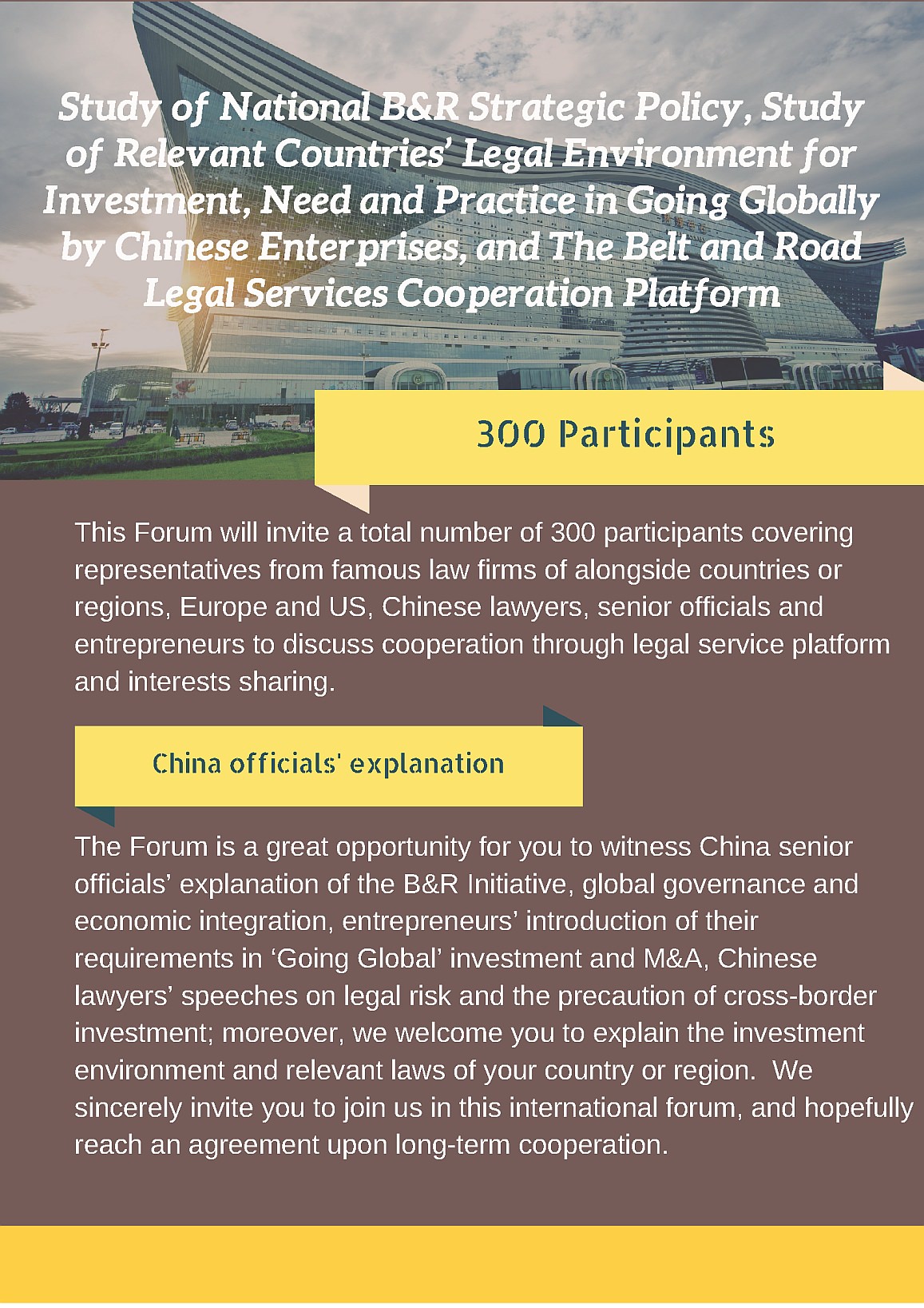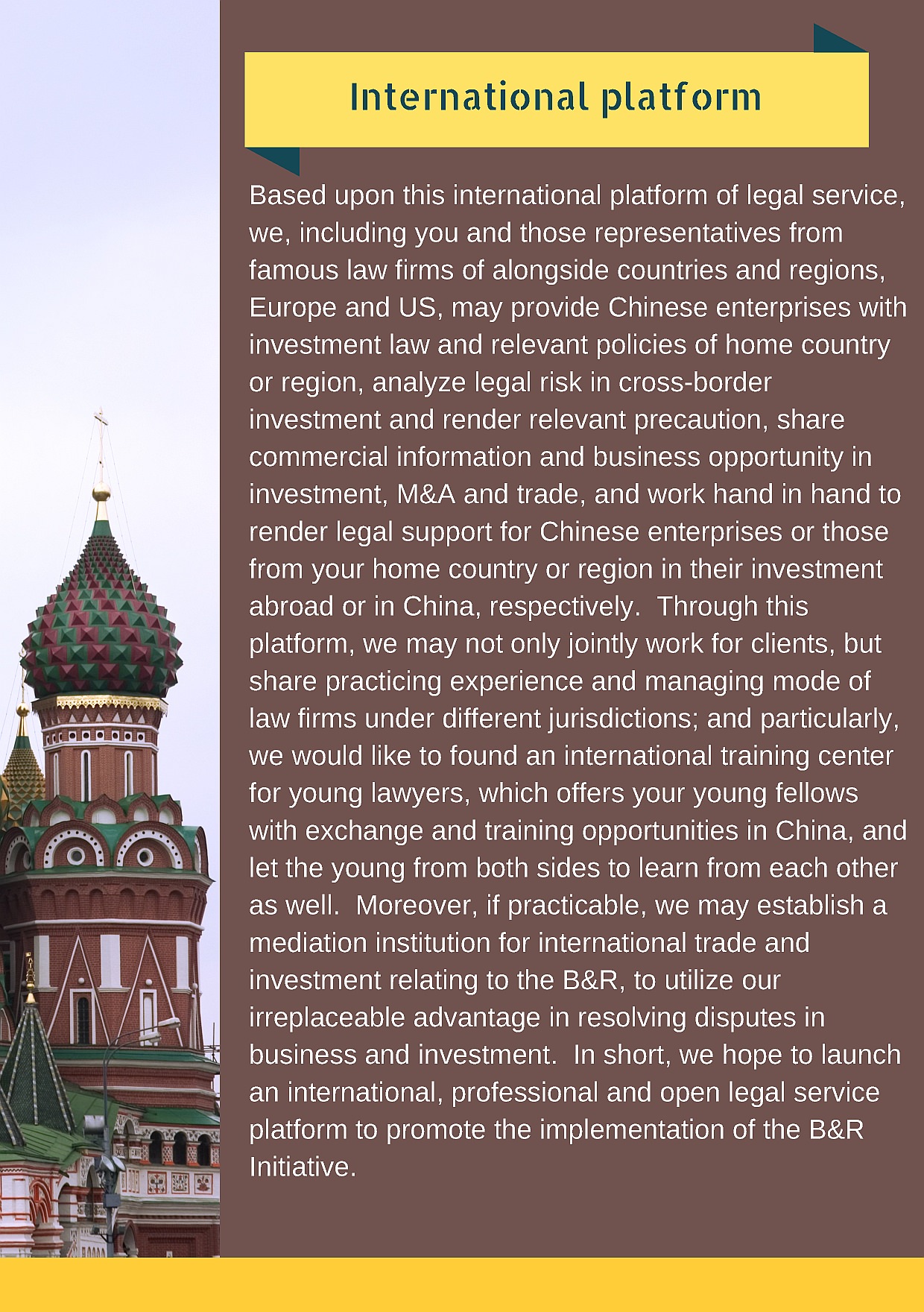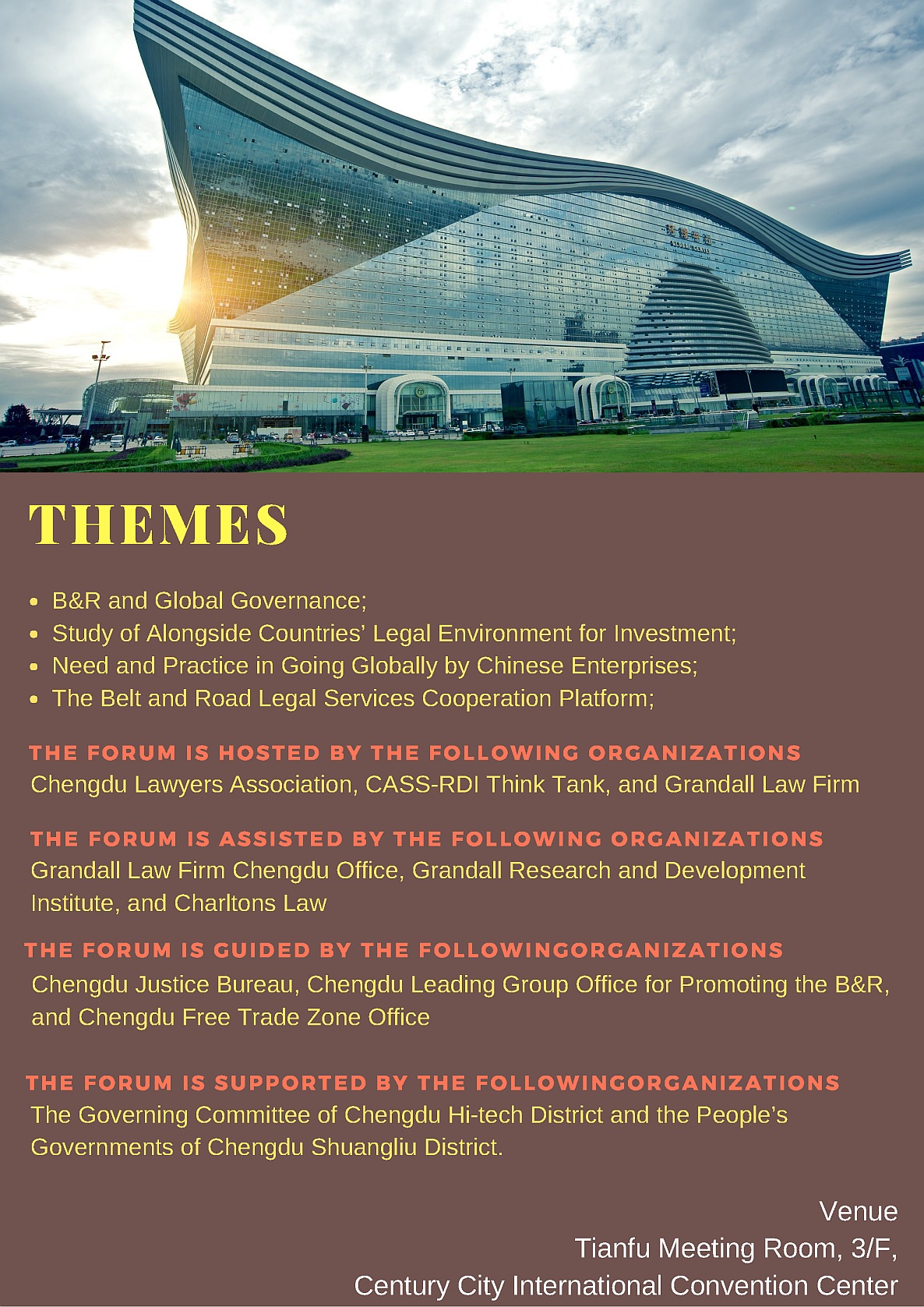 Get involved with the international forum and witness China senior officials' explanation of the B&R Initiative
2017 International Forum on Legal Services to Support the Implementation of China's One Belt One Road Initiative
Chengdu, Sichuan 29 ~ 30 July 2017
Study of National B&R Strategic Policy, Study of Relevant Countries' Legal Environment for Investment, Need and Practice in Going Globally by Chinese Enterprises, and International Association and the Belt and Road Legal Services Cooperation Platform
300 Participants
This Forum will invite a total number of 300 participants covering representatives from famous law firms of alongside countries or regions, Europe and US, Chinese lawyers, senior officials and entrepreneurs to discuss cooperation through legal service platform and interests sharing.
China officials' explanation
The Forum is a great opportunity for you to witness China senior officials' explanation of the B&R Initiative, global governance and economic integration, entrepreneurs' introduction of their requirements in 'Going Global' investment and M&A, Chinese lawyers' speeches on legal risk and the precaution of cross-border investment; moreover, we welcome you to explain the investment environment and relevant laws of your country or region. We sincerely invite you to join us in this international forum, and hopefully reach an agreement upon long-term cooperation.
International platform
Based upon this international platform of legal service, we, including you and those representatives from famous law firms of alongside countries and regions, Europe and US, may provide Chinese enterprises with investment law and relevant policies of home country or region, analyze legal risk in cross-border investment and render relevant precaution, share commercial information and business opportunity in investment, M&A and trade, and work hand in hand to render legal support for Chinese enterprises or those from your home country or region in their investment abroad or in China, respectively. Through this platform, we may not only jointly work for clients, but share practicing experience and managing mode of law firms under different jurisdictions; and particularly, we would like to found an international training center for young lawyers, which offers your young fellows with exchange and training opportunities in China, and let the young from both sides to learn from each other as well. Moreover, if practicable, we may establish a mediation institution for international trade and investment relating to the B&R, to utilize our irreplaceable advantage in resolving disputes in business and investment. In short, we hope to launch an international, professional and open legal service platform to promote the implementation of the B&R Initiative.
THEMES
B&R and Global Governance

Study of Alongside Countries' Legal Environment for Investment

Need and Practice in Going Globally by Chinese Enterprises

The Belt and Road Legal Services Cooperation Platform

THE FORUM IS HOSTED BY THE FOLLOWING ORGANIZATIONS
Chengdu Bar Association, RDI Think-Tank, and Grandall Law Firm
THE FORUM IS ASSISTED BY THE FOLLOWING ORGANIZATIONS
Grandall Law Firm Chengdu Office, Grandall Research and Development Institute, and Charltons Law
THE FORUM IS GUIDED BY THE FOLLOWING ORGANIZATIONS
Chengdu Justice Bureau, Chengdu Leading Group Office for Promoting the B&R, and Chengdu Free Trade Zone Office
THE FORUM IS SUPPORTED BY THE FOLLOWING ORGANIZATIONS
The Governing Committee of Chengdu Hi-tech District and the People's Governments of Chengdu Shuangliu District
Venue
Tianfu Meeting Room, 3/F, Century City International Convention Center
Get involved with the international forum and witness China senior officials' explanation of the B&R Initiative
One Belt One Road
Legal services platform
One Belt One Road Legal Services
OBOR legal platform
One Belt One Road legal forum in Chengdu
B&R Strategic Policy
China's One Belt One Road explanation
China officials' explanation of the B&R Initiative
OBOR Legal environment
Chinese enterprises going globally
cross-border investment
B&R and Global Governance
Belt and Road legal services
B&R legal platform
One Belt One Road business opportunity
B&R legal risk
China's One Belt One Road